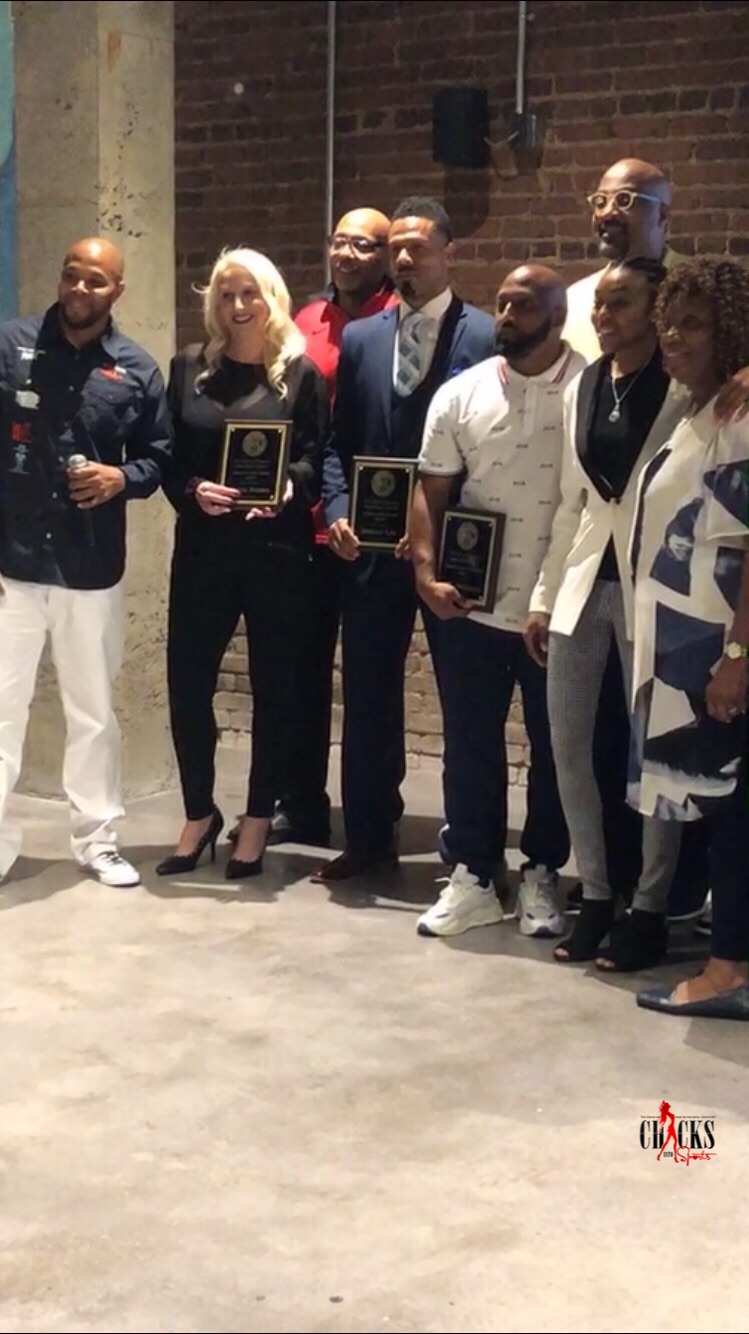 Professional athletes and basketball Leaders celebrated the best of the best from the summer season at the Atlanta End of Summer Basketball Party, Thursday at the Red Bull Offices in Home Park.
Renee Montgomery and Reec from 107.9 cohosted the event alongside NBA TV Commentator, Dennis Scott and President of King of Hoops, Michael Reckord.
Ballers from the WNBA, NBA and AEBL were in attendance to celebrate the end of Summer League play and give awards to players and community organizers in the Professional Amateur Basketball community.
"There are a lot of ballers here doing great things and excelling in the leagues out here," said Montgomery. "This party is to acknowledge thing people are doing that others might not know about."
Georgia Kings guard, Paul Parks, took home the Most Valuable Player of the Summer award after an impressive summer season.
"We have guys who played overseas and G League, Level 1 ball," said Reckord. "We want to show the unity of the city and basketball."
Reckord, Founder of the King of Hoops Basketball Tournament, says for him, it all started in 2002 at the King of Hoops tournament in Atlanta, Ga.  Formerly known as the Southern Classic Roundball Invitational (SCRI), he gathered 10 teams from Georgia, South Carolina and Alabama for a street basketball tournament for cash prizes and exposure.
"In the championship game, I had four NBA players playing against a team from Cleveland Ave, and the team from Cleveland Ave beat the NBA guys," he said. "I thought, 'Oh I got something!"
Since that tournament the Professional Amateur, or Pro-AM league has expanded to over 30 teams and a 10-week season, giving players from all over the world a place to work on their game in the summer.
"We created a place where guys can come play in a controlled environment with good competition," Reckord added.
Jahi Rawlings, founder of the AEBL and awarded Best Summer League of the Year, is happy to see Pro Am basketball taking shape in the Atlanta basketball community.
"It feels great to be recognized by my peers," said Rawlings. "When I thought about starting AEBL here in Atlanta, most importantly, it was about giving back to the community."
AEBL in Atlanta has gained celebrity attention with NBA players such as Kyrie Irving, Paul Milsap and Rapper Tauheed "2 Chainz" Epps',  Street Execs squad, competing in tournaments held nationwide in the past two years.
"This was probably our best season so far," Rawlings gushed. "We call Sundays, NBA Sundays. On Saturdays, our growing days, they felt like Sundays. I wouldn't have asked for a better summer."