You don't take these opportunities for granted," Dream head coach Tanisha Wright said. "To be able to make it to the playoffs, it's not an easy thing to do. So I'm really proud of their effort and I'm really proud of them coming out and getting the job done.
The Atlanta dream clinched a playoff berth with a 79-68 victory over Seattle on Wednesday (9/6), at Gateway Center Arena. Marking the first time since 2018, when it lost in the semi-finals to the Washington Mystics.
With the win the Storm will miss the playoffs for the first time in eight years.
Mo-money, Mo-money, Mo-money
Monique Billings poured in 15 points on 6-for-11 shooting and grabbed 14 rebounds. Billings surpassed 1,000 career rebounds with her 14 boards — including a career-high 12 defensive rebounds. Billings finished the game with her eleventh career double-double and second of the season.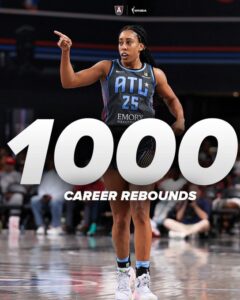 The Atlanta Dream (18-20) will face the Washinton Mystics (18-20) this Friday, September 8th at 7:00 p.m. ET.
The first round of the 2023 WNBA Playoffs presented by Google is scheduled to begin on Sept. 13.