​​​Duluth, Ga – Gas South Arena was jam-packed with hundreds of bull rider fans from around the world.  Day one of competition at the Unleash The Beast Competition started off with 40 Bull Riders trying to compete for 12 spots to advance to Sunday's Final. The ultimate goal is to qualify for the PBR championships in Fort Worth, Texas in May.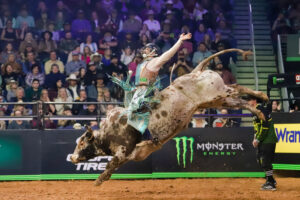 Round One was filled with a lot of ups and downs from all the bull riders leaving only 12 in a good position to compete in Round Two on Sunday. Out of those twelve individuals there was an outstanding performance by two of those Bull Riders. Jess Lockwood and Koltin Hevalow were the top two of the evening. Two-Time PBR Champion Jess Lockwood and KoltinHevalow had a strong performance and ended the night by tying for the Round One win.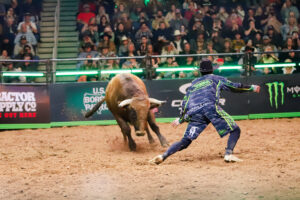 The night was filled with so much excitement. Not only did we see a great Bull Riding competition we also had the pleasure of witnessing Bull Fighting. Chance Moorman had the crowd cheering at the top of their lungs as he put on a great performance. He started the competition by jumping over the bull and ended the competition by running down the bull back and winning the Bull Fighting competition.
This was a great start of the two-day competition in Gwinnett. Day Two of competition starts back up at 1:45pm at Gas South Arena. Coverage starts at 1:45pm on Pluto TV. We are excited to see what Day Two has to offer and crown a winner of PBR Unleash The Beast Competition in Gwinnett.