A strong Atlanta Hawks comeback came up short on the road, when the Hawks fell to the Dallas Mavericks Sunday night, 103-94 at the American Airline Center.
Final. pic.twitter.com/FBKimB0fqi

— Atlanta Hawks (@ATLHawks) February 7, 2022
In the return of former Hawks head coach Lloyd Pierce as the assistant coach with the Pacers, Atlanta returned home and defeated the Indiana Pacers 133-112 on 'Crowning Courage' day on Tuesday night at State Farm Arena.
Took care of business! pic.twitter.com/gPMBDT6qkh

— Atlanta Hawks (@ATLHawks) February 9, 2022
GAME HIGLIGHTS –The Atlanta Hawks started off hot and did not skip a beat. Atlanta put up 76 points in the first half.
Not too shabby ?

Tune in to @HawksOnBally for 2nd half action! pic.twitter.com/ASqjAzr5d9

— Atlanta Hawks (@ATLHawks) February 9, 2022
Midway through the 4th,  Bogdan Bogdanovic gained his 4,000th career points.
Caught in 4k‼️ https://t.co/zUqEY4G5JB pic.twitter.com/LMxxzoScDH

— Atlanta Hawks (@ATLHawks) February 9, 2022
Trae Young led the team in scoring and finished with 34 points, 11 assists.
An easy 34 PTS x 11 AST tonight…

& your league leader in total points ? pic.twitter.com/SJ4ud90V08

— Atlanta Hawks (@ATLHawks) February 9, 2022
Big Man John Collins put 20 points on the board, Onyeka Okongwu added 14 points, 3 rebounds, 1 assist, Bogdan Bogdanovic scored 13 points, followed by Kevin Huerter who rounded off the scoring efforts with 12 points, 4 assists.
? Final Stats

Trae: 34 PTS | 11 AST
JC: 20 PTS | 9/14 FG
OO: 14 PTS | 6/6 FG
Bogi: 13 PTS | 3/6 FG
Kev: 12 PTS | 4 AST

— Atlanta Hawks (@ATLHawks) February 9, 2022
With last night's win, the Hawks improve their all‐time home record against the Indiana Pacers to 67‐33. Hawks are now 26-28.
"I just like our approach to the game. It was about taking care of business tonight and respecting the game even though they were shorthanded with the trade. But our guys came out right from the start – was solid both on the defensive end of the floor as well as the offensive end of the floor." said Hawks head coach Nate McMillan at the post game presser.
ABOUT 'CROWNING COURAGE'- As an expression of gratitude for their service, the Atlanta Hawks partnered with Crown Royal to host its sixth annual 'Crowning Courage' event where active and retired military personnel and their guests was honored. Hawks' Season Ticket Members generously donated their courtside seats to more than 180 veterans and their guests to enjoy the team's game against Indiana.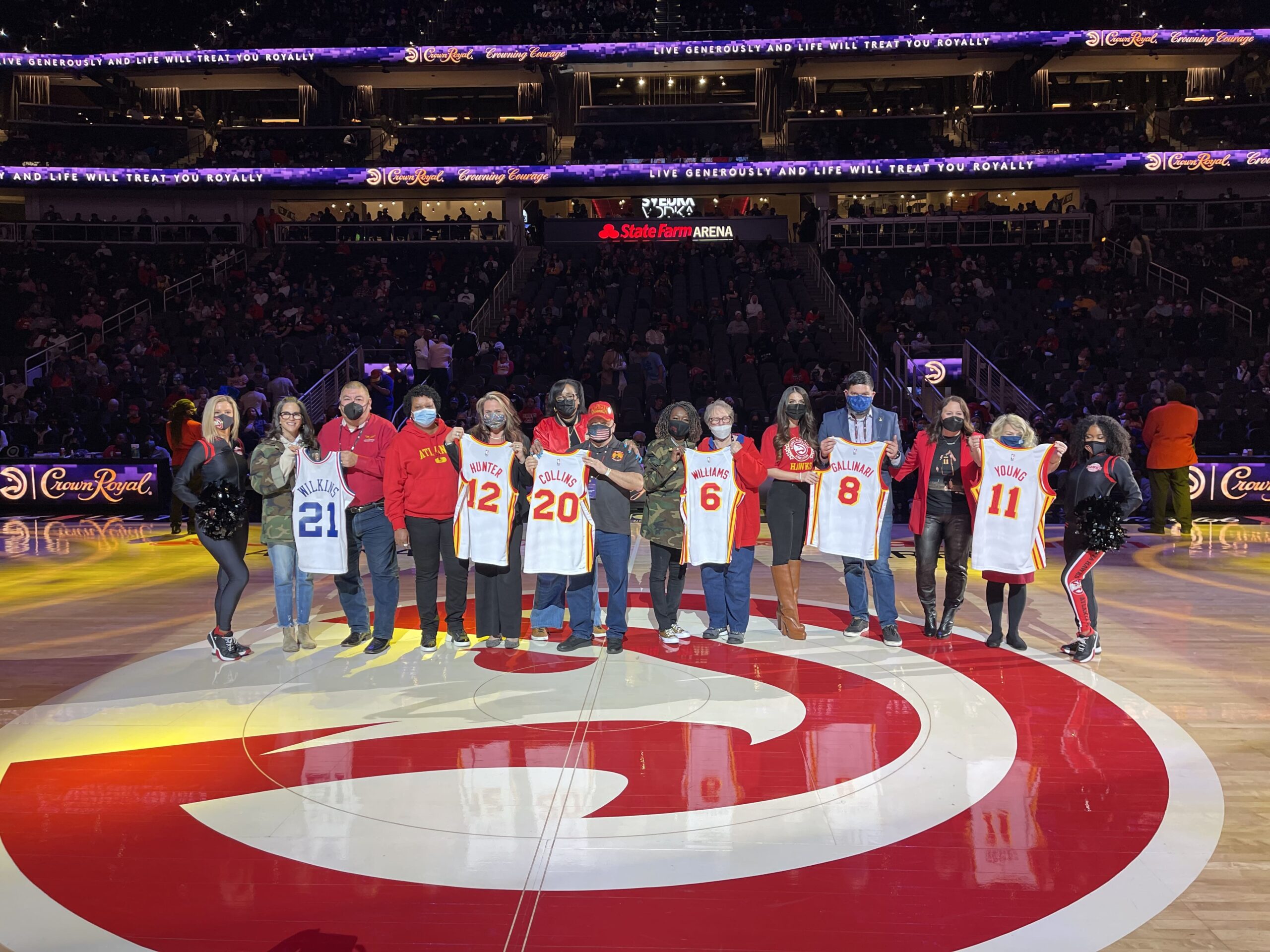 "The Atlanta Hawks and Crown Royal are forever grateful for the service and sacrifice of these heroes," said Hawks Principal Owner Jami Gertz
As part of the private pregame reception, the Hawks and Crown Royal rolled out the red carpet to welcome military personnel and their guests. After being greeted by Hawks Principal Owner Jami Gertz and Hawks legend Dominique Wilkins, guests also participated in various stations. One such station was Crown Royal's Purple Bag Project, where they put together care packages in the whisky brand's iconic purple bags which will be sent to active-duty service members overseas. Additionally, guests took photos at the iconic Crown Royal Throne.
Prior to the game, U.S. Army Staff Sergeant Michael Scarlett sang the National Anthem. During the game, various videos aired on the jumbotran at State Farm Arena, which highlighted veterans Herschel Scheidt, a 100-year-old World War II veteran, and Alwyn Cashe, the first Black Medal of Honor recipient, who lost his life in the line of duty. At halftime, Jami Gertz and the Lady Hawks, a women's auxiliary group comprised of the wives, significant others and mothers of Hawks players, coaches, basketball operations staff and management, presented autographed jerseys to USO Georgia, Pets for Vets, Semper Fi restaurant, United Military Care and Roswell Rotary Club. These five local organizations support active duty and retired military personnel.
Up Next: Atlanta will play three of it's next five games before the All-Star break at State Farm Arena.  On Friday 2/11 the Hawks will take on the San Antonio Spurs at State Farm Arena. Tip off is at 7:30 PM.