Photo of Atlanta United players Brooks Lennon and Erick Torres using the robot to visit patients virtually at Children's Healthcare of Atlanta.
It was announced today that, Atlanta United and the Atlanta Falcons today announced they have acquired OhmniLabs' Ohmni Telepresence Robots, sponsored by AT&T.
The robots will be used to deliver community relations programs for both teams in a virtual capacity. Atlanta United players visited patients virtually using the Ohmni Robot at Children's Healthcare of Atlanta – Egleston Hospital this week.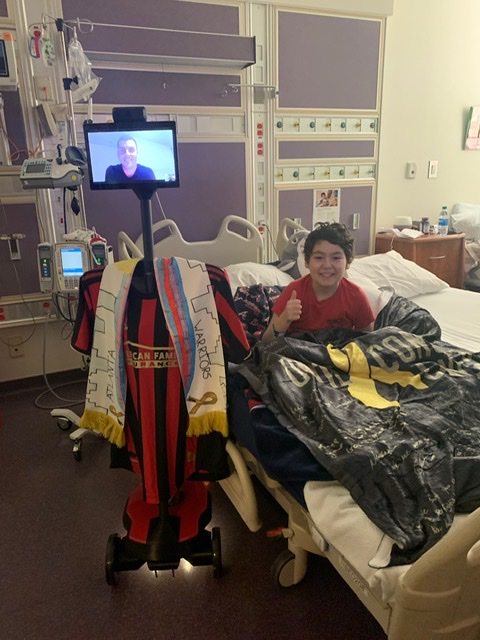 "One of the core values of the Blank Family of Businesses is to innovate continuously, and we are thrilled to serve our community through this inventive and safe approach," said Chris Millman, AMB Sports + Entertainment Vice President of Community Relations. "We are excited to leverage this technology so that we can continue to create memorable moments.  AT&T made it possible for us to execute this program and we are grateful to them for supporting our mission despite all of the challenges the pandemic has presented."
The Atlanta Falcons plan to utilize the robot during various community events throughout the season, including an upcoming Halloween themed visit at Children's. The robot will also be used at events during the Thanksgiving and Holiday season to give Atlanta Falcons players an opportunity to interact with fans throughout the community.