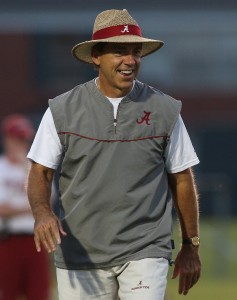 CC/RammaJammaYellaHamma 
---
Who would have fathomed the idea that any other conference could possibly have an unfair advantage over the SEC? The conference that won seven national championships in a row is apparently at a disadvantage according to legendary Alabama head coach Nick Saban.
Saban, a four-time national champion and six-time National Coach of the year, gave his thoughts on some of the Big Ten schools' use of satellites to cover summer camps. To summarize, he didn't like the idea because he believed it gave those schools a foothold recruiting-wise in the South.
Essentially, he believes the top five conferences in college football: the SEC, Big 12, ACC, Big Ten, and the Pac-12 should all abide by the same rules. This is coming from a multi-millionaire who coaches at a university that has a waterfall!
Why Saban's argument is flawed
 Honestly, the idea of a conference having the same advantages as all the other conferences isn't terrible at all because that would mean that no conference actually has an advantage – an actual level playing field. However, it is hypocritical for Saban to make that argument when the SEC just oozes with benefits, one of which is the fact that many if not most five-star recruits around the country come from the South (particularly the Southeast) year after year. Coaches in this conference probably don't need to recruit outside their region because the talent is in their own backyards. Saban could just walk down a street in Tuscaloosa and see a five-star recruit.
Let's also not forget the fact that last August, the NCAA Division I board of directors voted 16-2 in favor of the Power Five gaining autonomy or the right to set their own rules. Other conferences were allowed to adopt the same rules if they wanted to, but they would have needed Power Five money to pull that off.
Final Thought
It is easy for a coach with Saban's success and status to say that something the SEC doesn't have or couldn't use in recruiting is unfair but I think he is forgetting the bigger picture: this is how recruiting works. College head coaches have to try to sell to potential recruits the idea that their particular university has something to offer that the others don't. One could even think of them as unofficial salespeople. Bottom line, if roles were reversed and Nick Saban could use satellites to cover Alabama's summer camps, he would do so in a heartbeat because he knows he would have an advantage, unfair or not, over other universities. College recruiting isn't meant to be fair or equal. If it were, every university would be able to compete against one another and that would be ridiculous.